Que Pasa Baja California
Los Cabos Tuna Jackpot

Nov. 4-7, 2020
The staff of the 2020 Tuna Jackpot is ready to greet you! 139 Teams and nearly $900,000 in cash payouts so far! Checkin starts at 1 pm at Galati Yacht Sales balcony today.
It's game on for the 22nd annual tuna bash in Cabo Nov. 4-7, 2020. The tuna fishing and conditions are perfect! We are projecting a 120-team field. Bring a mask and a fun attitude (like the staff!).. so get ready to have a great time!
Follow on https://cabotunajackpot.catchstat.com/
Tijuana Bull Ring
To the south, the boats are hitting the Drop-off and just outside the kelp line. There they are catching some sculpin, lots of small, mixed red rockfish, a few sheepshead, and the odd lingcod or deep-water sand bass out in the flats between the shore and the Islands…Fish Dope
Lower 9 Mile Bank / Coronado Islands
There are bonito and lots of them, and that is what's happening. There are plenty at North Island and as well as in the Middle Grounds. There are also a bunch of them on the Lower 9 Mile Banks where a few guys are getting numerous jig stops on 5- to 8-pound class bonito followed up with from five to ten bait per stop.
In addition to the great bonito fishing, there is very good fishing in 450- to 500-feet of water for nice-quality reds…Fish Dope
226-302 / Coronado Canyon / 230 / 371 / 425 / Upper Hidden Bank
This zone is where a lot of the yellowfin, dorado, yellowtail, and skipjack are coming. For sure the lower half of this zone is working better than the northern half. Water temps are starting to drop. Cooler water is spreading from the north and east.
The 302 and the 230 are in 66- to 67.5-degree water. You need to get down to the 371 and the 425 to get into 69- to 70-degree water. From here there is a warm band extending towards the 390 and the 213. This later zone has some GPS marked kelps that are chewing wide open. See the next section in the report for those numbers.
Most of the action is still coming on kelps but a few are also scoring on jig stops. It should also be noted that while some very impressive scores are being made it remains hit and miss. If you don't find that "magic" kelp you might be in for a long boat ride. For trolling, daisy chains and cedar plugs (natural or black/purple) are working great. Pink is a great color for the stinger on your daisy chain with darker teasers ahead of it.
There are quite a few kelps around and only about 40- to 50% are holding anything. Those that are could have anywhere from a few to hundreds of fish.
The yellowfin are mostly in the 8- to 15-pound range with an occasional bigger fish around 25-pounds. Dorado have also been mixed, with plenty of small ones, but some of the kelp will have a few bigger bulls up closer to 15- to 20-pounds. Yellowtail are mostly small – from 3 to 6 pounds with an occasional standout in the 10- to 15-pound range.
The skipjack are running the same size as the yellowfin but there are a small number of very large skipjack in the 20- to 25-pound class too…Fish Dope
Ensenada
San Quintin
The cold weather arrived but the good fishing continues!!!… Garcia's Pangas
Bahía Asunción
Yellow tail bonanza today in Bahia Asunción…found some fatties! Adam & his Dad Keith fulfilled their goals of getting a 40 lb YT! Easy limits of nice quality fish…Shari Bondy
https://www.bdoutdoors.com/forums/threads/asuncion-trick-or-treat.760113/#post-5270440
Bahía de Los Ángeles
Such a great time fishing with you, Captain Juan Cook, and I enjoyed your hospitality; meeting your wife and daughter was priceless…thank you for sharing your experiences with Johnny, and me… I can't wait to fish with you again…Michael Willey
Baja Sur-Que Pasa
Bisbee Black & Blue Update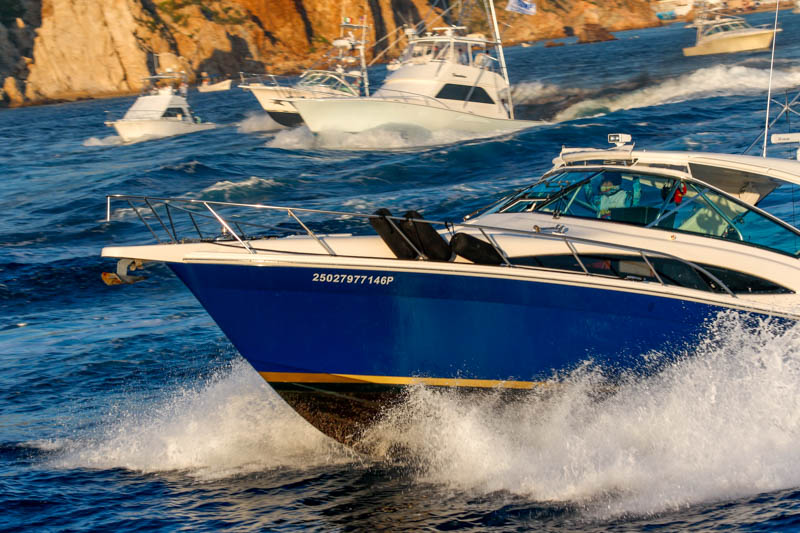 "Let Er' Ride", "Double Down", "Give Me Another Shot At That Money" or whatever you want to call it…" Wayne Bisbee
Last week's headline – 40th Annual Bisbee Black & Blue Tournament Ends with Millions of Dollars Left on the Table – that article told the story of no qualifiers over 300-pounds, meaning that all teams' unclaimed jackpots would be refunded/returned to the participating teams.
This was the first year that it had happened, and there were many suggestions as to what should be done. Wayne, however, rose to the occasion once again.
Here is a sample of the email sent to all of the Teams:
Hi ( name), I hope you're doing very well since the tournaments. This letter is regarding the prize money to be refunded for the 2020 Bisbee's Black & Blue. So you know, we are refunding 100% of the unclaimed prize money. Yes, this is in contradiction to our written rules (rule #13) that says "There is no refund of base entry fees." Both Tricia and I feel that since there was prize money available from the base entry fees just like the jackpot entry fees, that it is more fair/proper to return it too. In the past, when we have had various jackpots go unclaimed we have offered you two options. #1 is to refund it to you via one check to a team member, or #2 which is to roll it into next year's tournaments of your choice. Both of these options are still open to you. However… we put our creative genius hats on and have come up with a 3rd option for your consideration. "Let Er' Ride", "Double Down", "Give Me Another Shot At That Money" or whatever you want to call it…
This 3rd option is that we're offering everyone the chance to roll the entire amount of prize money into a new "2020 Division" of next year's 2021 Black & Blue. This is basically a second bite at the apple for you all to try to win it just like you did last week.
Some of you wanted us to add a day of fishing last week so you could still have a chance to win it, and now we're offering you 3 full days of trying to win it without the add'l charter day or day's fuel cost, etc. since you'll already be out there searching for millions of 2021 dollars! No one else will be allowed to enter, it's just between you, exactly as it was this year. We would simply "cut & paste" the entire awards matrix into next year's tournament format and this new division would occur alongside the normal tournament structure next year. Everyone would enter the 2021 tournament as usual and the additional teams that enter next year would not be able to be involved in this division. For the most part, this money would already be gone if as few as one fish was caught.
No one's ever had a full second chance like this before, and if we get everyone to participate in this option, you would have an $8-$10 MILLION Dollar tournament next October which would be off the charts awesome! The $4+ Million +/- is already paid and will remain exactly how it was this year. There is nothing in this option for our tournament from a financial standpoint; our benefit is the bragging rights and chance to shatter every record we've set in the fishing industry by presenting way more than we ever have on our stage. In fact, we will find a high-yield savings account or 12 month CD (feel free to recommend one if this sort of thing is in your wheelhouse) and whatever it generates in interest will either be divided back amongst you, added to the top team category or donated to charity. We'll let you vote on where it should go when the time comes. Please get back to us next week… With all this being said, I'd like to ask you to get back to me on which of these 3 options you prefer. If it is refund, include the name and address of who and where to send the check to. If you are rolling into next year, just let us know where to apply the money and thy will be done. Please email your response to info@bisbees.com. If your answer is, "hell yes, I want another crack at that money", I will tally up how many of you feel this way, let everyone kow and we will get it all nailed down. Thanks very much & all the best – Wayne, Tricia and crew.
Loreto
Summer weather allows for boats to hit any spot where fish action has been spotted. That would be "where the dorado are swarming! The fishable days we had this week encouraged many boats to travel and hit all the spots starting north and flowing south as the day progressed. If the wind builds up you can ride home quickly and dry. I've chosen the opposite option and it is not a good way to spend a few hours!
Almejas Bay and Pulpito kicked out yellowtail and cabrilla for the boats that took the ride north. All the spots north of Coronado are on the yellowtail destination list. The yellowtail averaged 15 pounds and the cabrilla were toads, close to 15 pounds, also.
The great weather days will allow boats to head east and whack toads out at Lobo and "50" at Carmen's northern tip. Dorado are still catchable every day. Bonito and the always popular needlefish can be found hanging around with the golden dorado.
This is the best time of year in Baja and the regular snowbirds are starting to show up in town, ready to stretch out and soak it all in!… Rick Hill, Pinchy Sportfishing
We have turned the corner in Loreto, at least as far as fishing goes. The autumn/winter winds have arrived, blowing down through the gulf from the north through Baja to the south. With that change, so changes the fishing or at least where you start the day's search.
Loreto; Mag Bay; East Cape Road Trip
My buddy and I, from Indiana, as well as my cousin from San Francisco, made the trip to Baja California Sur from October 11 – 18, 2020. We flew into Loreto, rented a car, and just drove down the peninsula fishing in Loreto, Mag Bay, and East Cape. We had never fished Mag Bay, so we focused our time at that destination… sullyatty-Newbie · From Indiana

https://www.bdoutdoors.com/forums/threads/loreto-mag-bay-east-cape.760132/#post-5270599
La Paz
MEXICAN MINUTE LA PAZ FISHING REPORT from Tailhunter Sportfishing for Week of Oct. 26 -Nov. 2, 2020
East Cape
The water is between 85- and 86-degrees, clear, and flat, with exceptionally light SE winds in the afternoon.

The air has been in the low 90s, but it is cooling! Mornings are in the low 70s with clear skies. Beautiful weather!
Fishing has improved for wahoo, yellowfin, dorado, billfish, and although there are many sierra which is unusual for this warm water, all of the above-named fish are being taken daily. There is also plenty of good bait available (sardina).
Puerto Los Cabos
The final big tournament of the season, the WON Tuna Jackpot, with approximately 130 teams heading in all directions, should see some nice-sized yellowfin being hauled in.
One of the more common gamefish recently were the dorado, though the majority were smaller-sized fish; not many of them were over ten pounds, and anglers should remember to practice catch and release for these smaller-sized dorado, especially since this is the one species where you can tell from a distance which fish are males or females. It does not make sense to kill the smaller-size females which are filled with eggs, as these fish are one of the faster-growing species. Please give them a chance to mature!
Only a handful of wahoo was landed recently. We expect with the conditions shaping up that these fish should become much more active in the upcoming weeks. Off the bottom, the highlight has been a few dogtooth snapper up to 40 pounds, more triggerfish, and small pargo, as well as an occasional cabrilla, bonito, island jack, or rainbow runner.
Along the shore, we saw jack crevalle, roosterfish, sierra, and more triggerfish. More sierra will begin to move in as the water temperature cools down and winter sets in… Eric Brictson, Gordo Banks Pangas
Cabo San Lucas
Limits of dorado were common for most of the fleet targeting them. The trick was to release the smaller ones until a larger one came along. And occasionally, a 25-pounder would show up.
Adding to the excitement, a wahoo bite, one of the best-eating fish caught locally, would come along. Jason Jeter and Kayla Van Fleek managed to land a five-foot-long, trophy-sized wahoo weighing 52 pounds, in addition to 20 or more dorado bites, while another boat near them hooked, caught, and tagged a wahoo.
Other action also included billfish, a striped marlin, along with a few large blue marlin. Rebecca Ehrenberg, fishing alone, tagged and released 8 of the 10 striped marlins she hooked, as well as yellowfin tuna.
Inshore, sierra mackerel, roosterfish, and skipjack were taken by boats fishing closer to shore…Rebecca Ehrenberg, Pisces Sportfishing.
The marlin fishing has picked up this week. With the water cooling down the fish are starting to move down from up north. It's the best action at Rancho Migrino on live bait, though few are on lures.
We caught one striped marlin on Sunday, one striped marlin and one blue marlin on Wednesday, and one sailfish on Saturday.
Dorado is still the happening, wide-open from Solmar to Los Arcos, the best action on live bait and ballyhoo, the bigger fish are caught on ballyhoo and live bait some on lures.
No reports this week on tuna, but this should change with the cooling water temps.
There were a few more wahoo reported this week on Rapalas and lures; we had a 41-pound wahoo at Rancho Migrino.
Inshore
Dorado are still the hot bite and along with a few roosterfish this week on live bait at the Lighthouse.
This next week is the Western Outdoors Tuna Tournament! We will see if the tuna bite picks up since the weather has cooled off very nicely…
https://www.bdoutdoors.com/forums/threads/cabo-san-lucas-fishing-report-jc-sportfishing-october-31st-2020.760086/
That Baja Guy-Gary Graham
Photojournalist
http://www.thatbajaguy.com/
Cellular (760) 522 3710