Baja Bytes – October 19, 2021
Que Pasa
Tijuana Bull Ring
Guys on the water this morning reported very slow surface fishing – nothing exciting. However, they found a few short bass in the kelp, which means rockfish remain the best bet here.

There are some sculpin down on the IB Pipe with a few rockfish mixed in as well. Fresh cut squid on dropper loops will work for these. …Fish Dope
Coronado Islands/Rockpile
Yellowtail are around, but it is far from good fishing. You will have to work for what you get and get them in quickly before a sea lion steals them. The sea lions are brutal right now.
Some 7-pound bonito are around the Islands, especially down at the Rockpile.
We recommend slow-trolling sardines on 30 to 40-pound gear. The heavy tackle will aid you in getting those fish in quickly before they become a sea lion snack! …Fish Dope
Ensenada
Excellent fishing, very pleasant. …Cocos Sportfishing, Ensenada
San Quintin
No Report
Cedros Island
 As we go through October, we begin to see a better grade of yellowtail and dorado moving into the waters surrounding Isla Cedros. This is in contrast to our late summer fishing, which was focused on the large concentrations of school-sized fish yellowtail and dorado.

Although the school-sized were greater in numbers, the larger, more solitary bruisers dreamed of by anglers visiting Cedros are a welcome sight. Most weigh in at over 40 pounds and have likely been pushed northward by the hurricanes and tropical storms much farther south. These fish may not be as prolific as the schoolies, but they provide far more rod-bending delight to any angler who is lucky enough to hook up with one of them.

Among those fortunate enough to get a piece of this action was the veteran salt and freshwater angler Gary Griffin,  paying his third visit to Cedros Island with his friend, Rick Lea, and his son, Charlie. …Tom Gatch
https://www.bdoutdoors.com/forums/threads/october-16-2021-cedros-island-big-yellowtail-and-dorado-daze.782721/#post-5469102
Bahía de la Ascensión
Mi amigos Mark Rosen & Paul scored good waves & this brute of a corvina just north of Bahia Asuncion…word was…fish on every cast! Wooohooo Shari Bondy
San Felipe
My buddy, Chris Fierro, invited me to go with his group of kayak fishing buddies. Although I can (kinda', sorta') kayak, I don't have a ton of confidence in my skills. Last year, I got into a hairy situation when I tried to kayak fish the Cliff Lingcod spot in Washington State. I also tried to kayak fish while visiting Loreto a few years back. I overturned the kayak, couldn't get back in, and had to backstroke back to the beach, towing the kayak. So, given my current state of kayak fishing prowess (or lack thereof), I decided to book two days of panga fishing with Capt. Alonso Garcia Lucero (right) of Thresher Fishing Trips. Alonso said that if the conditions cooperated, he might be able to get me my big grouper! …Joe-Sarmiento
https://www.bdoutdoors.com/fishing/fishing-reports/baja-roadtrip-san-felipe/
Baja Sur-Que Pasa
Loreto
Photos are from a trip to Juncalito with regulars Joe and Cheryl on a smooth as glass afternoon – roosterfish, dorado, sierra, cabrilla, and the dreaded needlefish.
The summer/winter split is slowly perking along at a constant pace.
The strict dorado focus has weakened, with half the 40 or so dorado chasing boats jigging for mackerel while the rest pick up sardina in front of the marina. Schools of juvenile roosterfish and sierra are mixed all along the coast south of the arroyo.
The Bay outside of El Juncalito has been foaming with roosterfish, dorado, and pesky needlefish! Yellowtail to 18 pounds are biting both live bait and iron at Almeja Reef and the rock piles around Carmen's Punta Lobo.
I haven't had any reports on yellowtail action at the southern high spots, but I would guess they are waking up, too. Some good-sized cabrilla, pargo, and baqueta should be showing up more often now that more boats are fishing the deep rocks!
Daytime temperatures have slipped to mid-80's with 70 degree nights. The water is still crystal clear and warm, making the scuba crowds very happy! …Rick Hill, Pinchy Sportfishing
Lopez Mateos (Magdalena bay)
This week has been challenging as the wind only allowed us to get outside for one or two days. On the days we were able to go outside, a couple of the boats found excellent fishing for dorado. I looked for marlin south of Tosco about 15 miles, and I couldn't quite get there. There had been some in front of the Magdalena Bay entrance, but they were gone. The marlin seem to be very far south, with not many up north around the usual banks such as Thetis. The Bay has had excellent fishing with good catches of grouper, snapper, and corvina. We have been using both shrimp and fly. We will probably be spending most of this week inside as the weather forecast looks like it's going to be windy here. It's windy as I write this, so it's another day inside. I'll let you know how this week turns out! …Jeff DeBrown, Reel Baja
San Carlos (Magdalena bay)
Once again, we are getting a lot of snook inshore. Rooster fishing kicked up as well. Marlin are on the baitballs, so there are massive numbers of them and dorado and wahoo. …MagBay Lodge
La Paz
MEXICAN MINUTE LA PAZ FISHING REPORT from Tailhunter Sportfishing for Week of Oct. 10-16, 2021
East Cape
A Seven Day adventure, with four fishing days, including a two-day successful entry in the 2021 Let's Talk Hookup Fishing Tournament ending 10-10-21 at the East Cape, out of Palmas De Cortez Hotel. …Tuna Slam
https://www.bdoutdoors.com/forums/threads/rpt-10-11-21-tournament-lets-talk-hookup-east-cape.782551/
Puerto Los Cabos
Times are busy now; streets are bustling with groups of anglers, tournaments are ongoing, and the year's largest event, the Bisbee Black & Blue, is planned for later this week. There will be millions of dollars in prize money at stake.
After the recent storm Pamela, the ocean became stirred up and murky green in areas, with lots of currents pushing in and out. Clarity is improving daily as the weather has settled down. Ocean temperatures are still quite warm, between the 84 and 87-degree range.
Bait supplies are under heavy pressure now. Sardina, caballito, ballyhoo, and slabs of squid are being offered on a limited basis. Overall, the action has remained slow, and boats are searching in all directions, scouting out all options. Most local charters are fishing from Punta Gorda to Iman and San Luis grounds, while others are heading in southern directions. The yellowfin tuna bite is at a standstill. Anglers are marking some fish, and at times they see them flashing near the surface; however, the tuna just have not been on the bite! Mostly under ten-pound dorado have been scattered in small schools. Anglers are very fortunate to land a limit of the nicer-sized fish.
Wahoo are now seen almost every day on the grounds to the north. Ballyhoo, Rapalas, and chihuil all produced strikes, though the 'hoo are still just starting to become more active as water drops a few more degrees. However, that should help trigger this action. The wahoo we saw averaged 30 to 40-pounds.
Some nice dogtooth snapper are being hooked from off the high spots north of Punta Gorda. We saw one fish weigh in at 72 pounds, and others were over 50 pounds.  They are very tough fighters, and often, these fish win the battle! A few species hooked off the bottom – cabrilla, bonito, black skipjack, amberjack, and triggerfish.  There were more triggerfish than anything else.
With conditions on and off, we are going through a tough stretch. as all anglers know, things can turn around at a moment's notice. …Eric Brictson, Gordo Banks Pangas
Cabo San Lucas
Bisbee's Los Cabos Offshore Tournament Winners are among 186 teams, the largest ever in its 23-year history, competing for a Total Payout of $1,961,600.
https://bisbees.com/News/Article/125
Bad Company reunion. Some have been fishing together for 30 years or more. Not sure if there are more legends or grandpas in this photo, but we are genuinely treasuring this moment. This old 13-year-old Viking 60 girl is still looking good! #vikingyachts #galatiyacht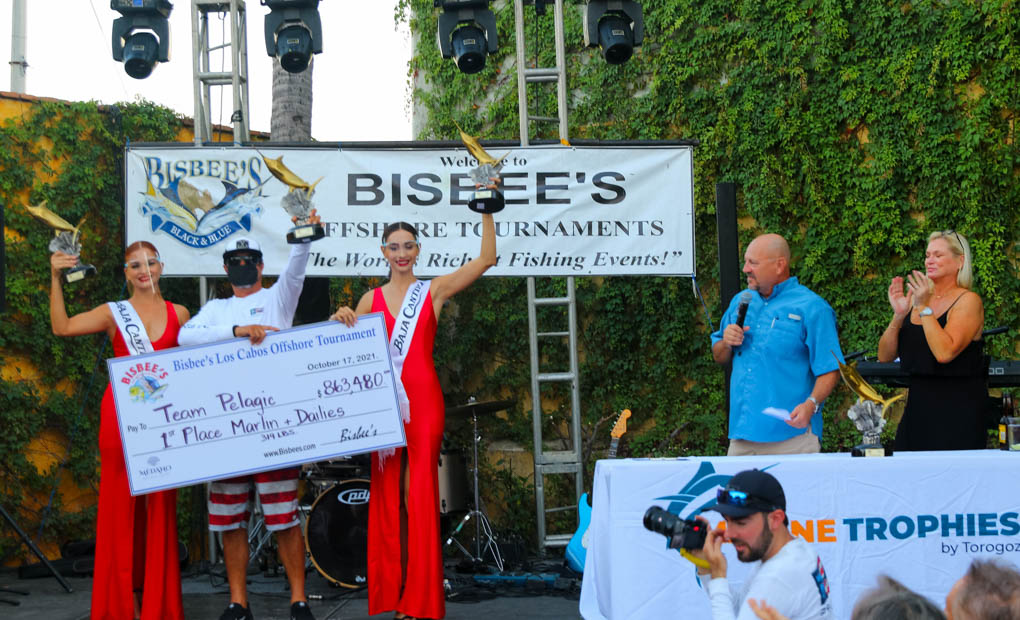 Congratulations to the winners for their remarkable achievement under harsh conditions: Team Pelagic Gear, with Victor Julio Pizarro, Captain and Jeffrey Aaron, angler; Daniel Arieta, angler, mate, Tony Berkowitz, angler, Brandon Cotton, angler, Mario Cubillo, angler & mate, Joe Frizzelle, angler, Kevin Hibbard angler & mate, Ron Kawaja, angler, Chris Raya, angler for their 319-pound Black Marlin, the only qualifying billfish landed in the two days of fishing. The catch earned them an astonishing $863,480.
https://bisbees.com/News/Article/125
LOCATION: The best fishing locations have been Migrino, Poso Coto, 30 miles at 140 degrees, 40 miles at 140 degrees.  
WEATHER CONDITIONS: The sea temps have been from 79 to 85 degrees, clear and calm with three to five-foot swells, and winds SE from 3- to 5-mph in the afternoons. The air temps have been 73- to 85-degrees.
BEST LURES: The best bait has been alive or dead caballito, mackerel, ballyhoo, sardina, and cedar plugs. Trolled blue and white pushers, green and black, green with yellow, cedar plugs, plastic squid, and Rapala-style lures. …Pisces Sportfishing Fleet
That Baja Guy-Gary Graham